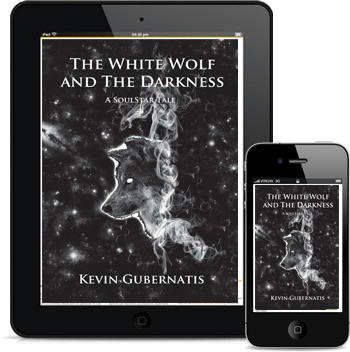 Read it on your favorite device!
The novel and the bonus materials are available for every device. Take the Soul Star Galaxy with you any time, any place.
The Covenant Of Earth Nations, Earth's governing body, has lost contact with a deep space research station orbiting a black hole known as the Dark Star.
COEN has sent a team of specialist commandos to discover the reason for this communications blackout. Along with these specialists, they sent a young magician, Asala. She and her commandos are prepared for any situation involving entities supernatural or mundane, or so they believe.
Little do the COEN Corps commandos and their magician know that what awaits them aboard the Dark Star is far beyond anything ever experienced. A presence waits in the shadows, hungry and curious. Can Asala confront this terror and keep her commandos alive, or will she and all those in her charge fall victim to...The Darkness?
Download your copy today.
eBook available from all of these fine retailers
A beautiful, haunting, thought provoking and captivating science fiction tale. The characters are as real as they come and the plot is a rivoting page turner!.
Once I started to read The White Wolf and The Darkness i didn't want to put the book down. All of the characters had great personalities and the author has you guessing until the end.
And as a fan of Scifi and fantasy, I loved the combination of both in one book. I was surprised how much the book grew on me and now that I am finished…I want more!!
New Bonus Materials!
2014 anniversary of the release of The White Wolf and The Darkness: Bonus behind-the-scenes and more in the Soul Star Galaxy.
For all the readers who've wondered about how Earth spread across the galaxy, what happened before and after the Vievaytr docked at Dark Star Station, and just who exactly is on Asala's team of COEN Commandos:
A prologue, with Captain Earls welcoming Asala aboard.
An epilogue, with one more cup of coffee.
Personnel files, detailing the commandos' career paths.
World-building articles, on COEN ships and magic.
Galaxy-building histories, detailing the rise of COEN and introducting other societies.
Space marine armor with magical runes and summoning demons on the deck of a space station seem completely normal in this world.
He has taken the chaotic mind play of children in the yard and brought it to us as adult so that we can go back and remember what it was like to imagine, dream and want us to come out and play again.
If you are looking for a fun story of real people fighting for survival in a terrifying situation and being changed because of it: Buy this book!